At Ee-Jay Motor Transports, we take our responsibility as members of the community very seriously.
Since 1986, the Griffin Center has conducted programs for thousands of low income children who reside in or near East St. Louis public housing complexes. Programs, including after school and summer programs, are free of charge because neither the children nor their parents can afford to pay for the services. Many firms, foundations and individuals who feel it is important to support social, emotional and educational growth of low income kids have generously provided the funds needed to expand services from 1 project to the 5 now served (more than 350 kids registered) by Sr. Julia Huiskamp and her staff of dedicated volunteers, headquartered at Griffin Center. Please join us in supporting the incredible work done by Sr. Julia. Monetary donations are always welcome and can be sent to Griffin Center, P.O. Box 2185; E. St. Louis, IL 62202.
---
We also support Operation Clean Sweep, and do our part to protect the environment and save valuable resources.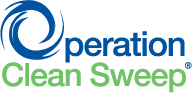 Zero Pellet, Flake, and Powder Loss is a priority for the plastics industry—and a critical issue for our environment. Spilled pellets, flakes, & powder can make their way into local waterways and ultimately estuaries & the ocean. This isn't just an eyesore and a litter issue; pellets, flakes, and powder, if accidentally mistaken for food by birds or marine animals, could harm them. That's why Ee-Jay Motor Transports is behind Operation Clean Sweep and their efforts toward Zero Pellet, Flake, and Powder Loss.